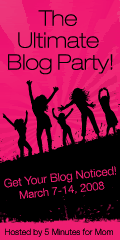 I'm not a mom, but who can pass up a party?! So, I'm crashing the Ultimate Blog Party! I'm wanting to expand my readers to beyond the handful of people that read me.

My name is Staci and I'm a 31 one year old, single gal from GA who tries everyday to live a life that honors God. He has literally spoiled me with so many good things in my life. Instead of reading a novel about them all, I've compiled them below!

So welcome! Here's a little bit about me letter by letter:
(Warning: lots of links ahead!)

S - sister, sisterchick, silly, sentimental, shop-a-holic, swapper

T - teacher, tv watcher

A - aunt, alumni of North GA College & State University

C - christian, camp co-director...sort of, computer geek wannabe, college grad

I* - innkeeper (translation: I have a roommate), itinerant (translation: I like to travel), irregular (translation: random), infatuated with famous people (no translation needed!)
*I had to get some help from the thesaurus for this one!

Another thing about me is that I LOVE winning prizes. (Alright, so is there anyone who DOESN'T enjoy that?!) Here are some that I would put to good use:

#59 - $25 cash from A Cowboy's Wife.
#112 - $5 Starbucks card from Mocha With Linda
#130 - $5 Starbucks card from Days Like These!

Thanks for visiting and if you haven't joined the party, you've got till Friday :)

God Bless!