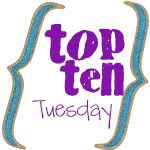 It's back to work for me today in a new year! I always love the beginning of a new year because you just never know what's in store. I'm hoping for only good things this year!
So to start this year off right, I'm going share with you the top ten things I've accomplished before the bell rings at 8:15 this morning!
1. Woke up - Being on break really messes up my schedule so the fact that I actually had to set an alarm and get up was an adjustment.
2. Pick out an outfit...a work outfit. I just know that if I could wear jeans to work everyday, I would be a better teacher! Weird as that may sound, it's so true because half my battle in the morning is finding something to wear. Yuk!
3. Check my facebook and twitter. They're blocked here at school so I can't get on. It's probably a good thing because I would tend to be a wee bit distracted!
4. Made some hot chocolate. I'm not a coffe drinker but I can drink my weight in hot chocolate!
5. Packed my snack for the day. I take my class to lunch at 10:50 so by the time 2:00 rolls around, I'm STARVING! Especially when I've been used to just rolling out of bed at 10:50 (just kidding...I can't sleep that late!)
6. Put in for a duty day. They're giving me a half day off to work on some science stuff. Can't complain about that!
7. Got a lab demonstartion set up. I'm teaching the water cycle today, so I'm starting off by doing a demonstration that shows the water cycle in action.
8. Went to the bathroom. I won't get another chance until lunch today.
9. Got my face on. Well, actually just my lipstick. I don't really know why I bother because it's off in about 10 minutes.
10. Say a quick prayer for the Lord to help me get through this day! I do love my job once I get started. It's just the getting started part that is sometimes a pain!